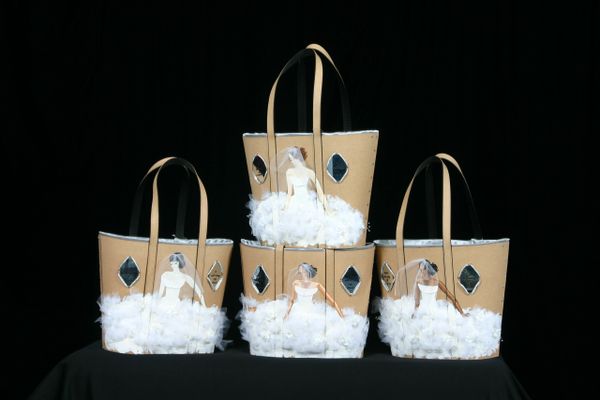 BRIDAL KEEPSAKE BAGS
ALLOW 4-6 WEEKS TO SHIP
Artwork is hand-painted. 
Send us your picture for Skin-tone & Hair Color replication.
Bouquet added upon request & accent COLOR can be added.
We would like to introduce the SUSEJ BRIDAL BAGS; a keepsake for the bride to store every special thing that came to be her wedding day.  Whether a gift for the special couple to be, or an Anniversary Celebration; the bridal bags sentiments will ring loud and clear.  Each bag is customized with the couples wedding date inserted into an inscription that reads "On this day of (date written here), I will marry my friend.

We suggest Bridal Bags be filled with sentimental items from the couples' special day such as...
Wedding Album and/or Video, Copy of Vows, Copy of Invitations, Guest Book, Copy of Program, Cards received, Brides Veil, Brides Shoes, ...something old ...something new ...something borrowed (if kept!) ...something blue, Penny (from shoe), Flower (from bouquet), Ring - bearers Pillow, Vial of Brides Perfume and Grooms Cologne, Reception Menu, Champagne Glasses, Wine Cork, Cake Topper, Cake Knife, Straw Strand (Broom Jumping Ceremony), Rice (small bag), Honeymoon Itinerary, Intimate Items.