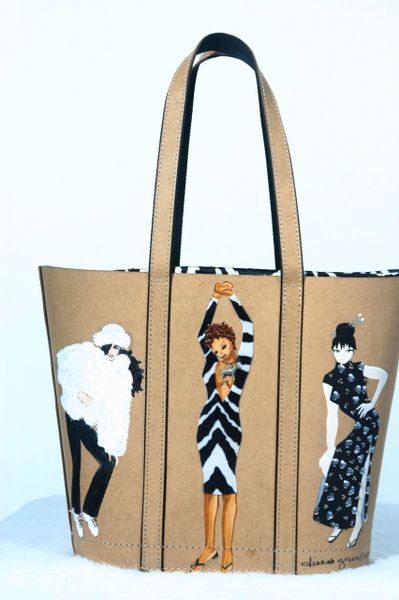 FOR TWILA
ALLOW 4-6 WEEKS TO SHIP
Leather
13"x17"
Certificate of Authenticity Included.
Hand-Painted Artwork w/3-D Embellisments.
Only 100 to be made.
Drawstring Closure. 
10% of purchase Donated to The National AID FUND.
"Dedicated to the one we love / Our Mother, Daughter, Sister, Aunt, Niece, Cousin, and Friend / But now her soil rests up in the Heavens above / As she's an Angel now; like a sun's bright rays, she's beaming down / Fond memories of you will forever linger around in the air / Assuring us that you are always near / This bag is in loving memory of Twila Yvette Napier." -N. Oliver
Figure 1:  White fur textured coat and hat, black suede textured pants, lace up tennis shoes.
Figure 2:  Velvet textured zebra print dress, zebra charm.
Figure 3:  Black kimono embellished w/silver -colored beads and sequins.